MR.perfect
InverPad® Turbo Pool Heat Pump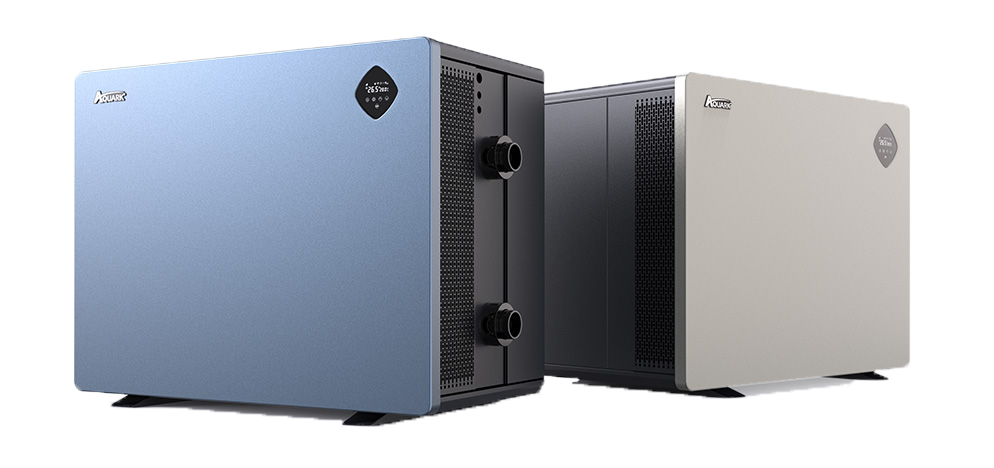 INVERPAD®TURBO
InverPad® Turbo는 Heater pump의 혁신입니다. 수영장 업계 최초로 공기역학적 최적화와 초저음 기술이 결합된 Turbofan은 가장 진보된 무소음 기술이며 소음 수준의 새로운 이정표를 세웠습니다.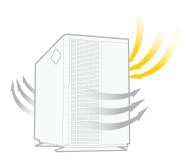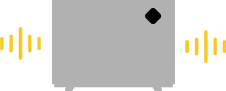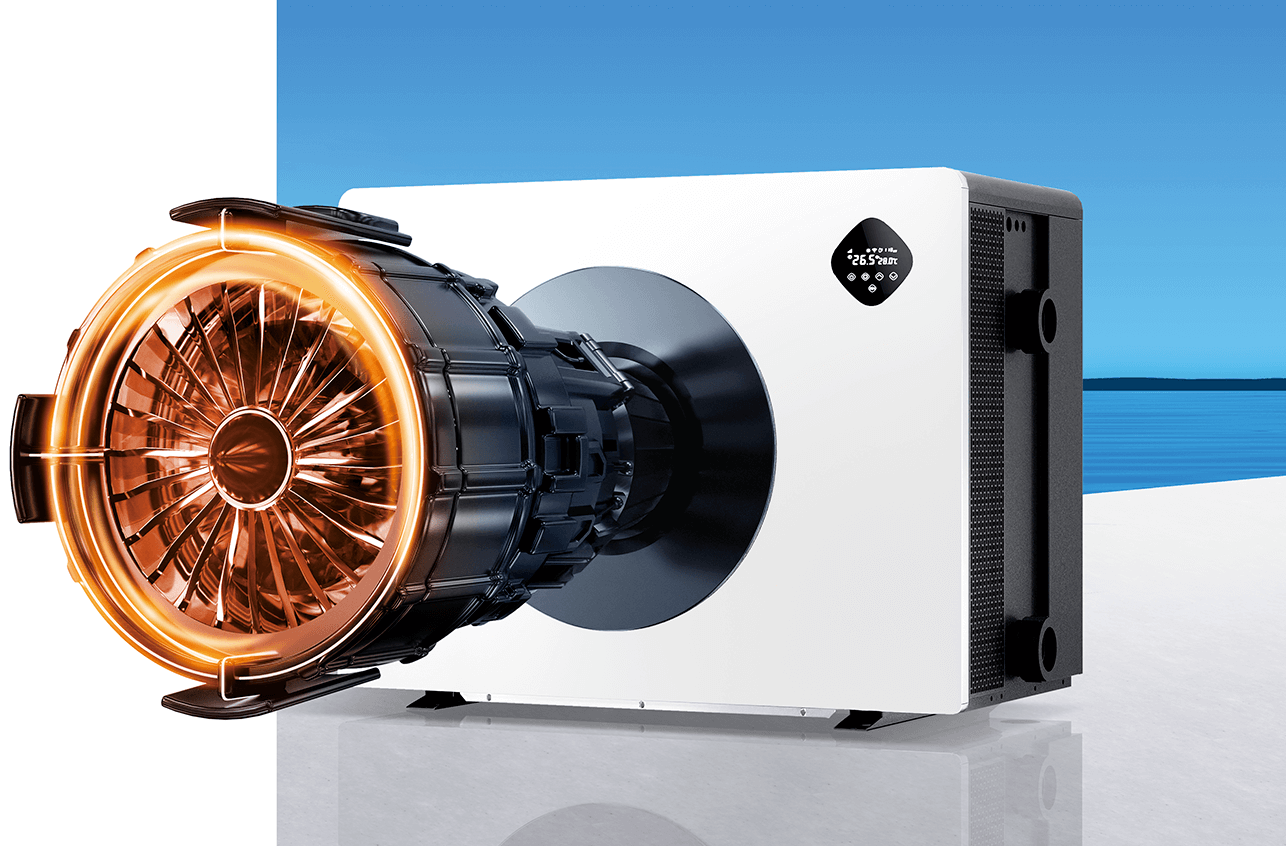 COP UP TO 16
에너지 소비 69% 절감  
ON/OFF 히트펌프보다
두 배 이상의 에너지 절약
AIR OPERATION -15 ℃
STRONG OUTPUT
UNDER HARSH CONDITIONS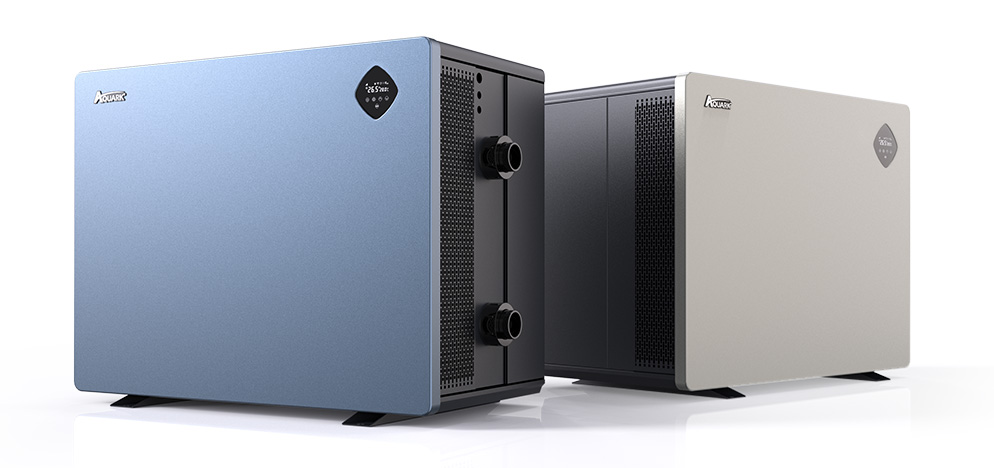 ADVANCED CONTROLLER
편안한 컨트롤러는 사용하기가 매우 쉽습니다.
뛰어난 데이터 모니터링.
패널 강화 유리와 반응형 백라이트.
고도로 세련된 외관.
ANYWHERE ANYTIME
Control your heat pump anywhere and anytime with InverGo.

Controller in your hands

Enjoy and access all the features
of your heat pump controller.

Set Schedules​

Program when or how your heat
pump works

Share with your loved ones

Let your family control
Mr.Perfect

DC twin-rotary Inverter
compressor of Mitsubishi.

Hot gas defrosting with Saginomiya
4-way valve for quick and efficient defrosting.
EEV technology: 10 times flexibility
to adjust the gas flow and increase
the COP by up to 20%.

Twisted titanium heat exchanger:
40% higher efficiency than normal
titanium heat exchanger.
32% GWP comparing to R410A
25% CO2 carbon consumption
25% quota cost.

Operate in air temp
down to -15°C
MPC110
Air
temperature(°C)
100%
Capacity
50%
Capacity
20%
Capacity
Heating capacity
27
11.00
5.5
3.3
Heating capacity
20
8.9
4.5
2.7
Heating capacity
15
7.7
3.9
2.3
Heating capacity
12
6.9
3.5
Heating capacity
7
5.9
Heating capacity
2
5.3
Heating capacity
-7
4.4
Heating capacity
-15
3.5
remark: water temperature 26℃
C.O.P.
27
6.4
10.3
15.0
C.O.P.
20
5.1
7.6
10.0
C.O.P.
15
4.2
5.6
7.5
C.O.P.
12
3.9
5.1
C.O.P.
7
3.5
C.O.P.
2
3.2
C.O.P.
-7
2.9
C.O.P.
-15
2.4
remark: water temperature 26℃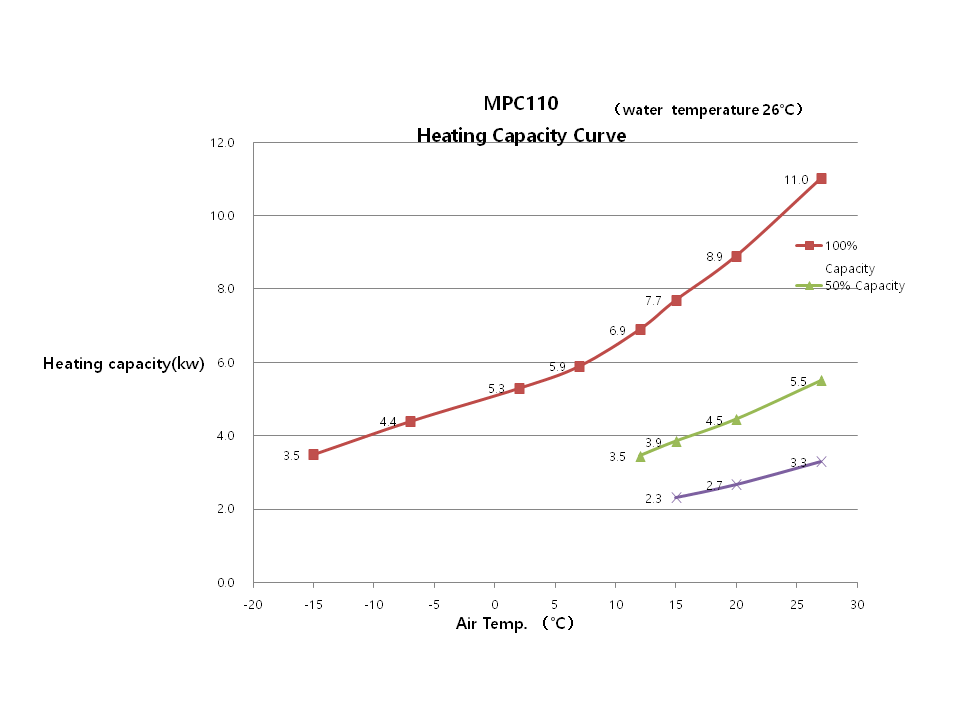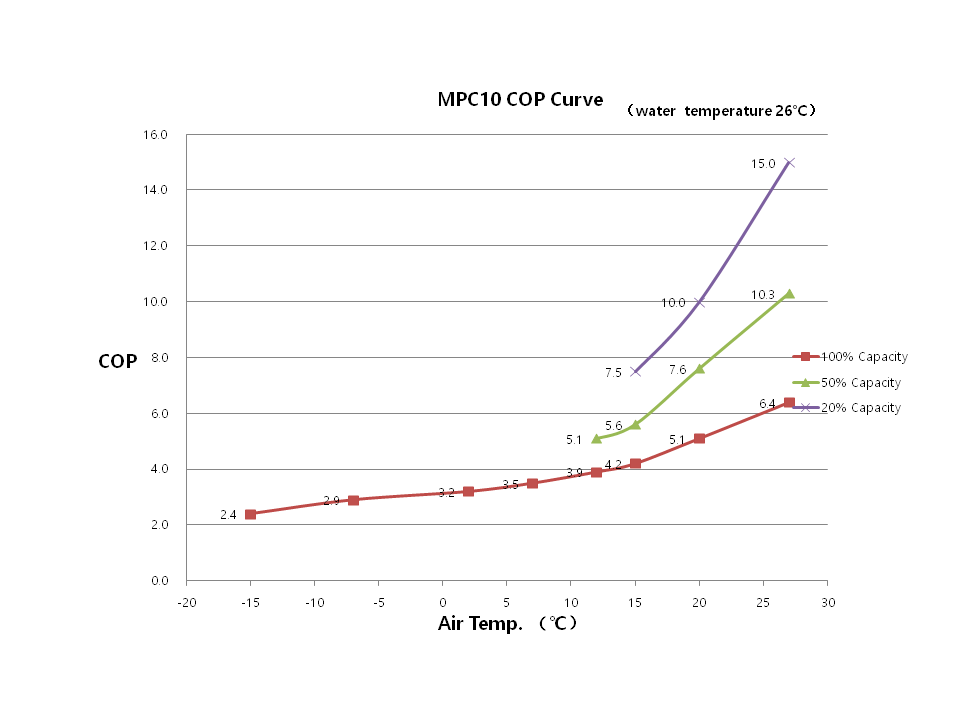 MPC140
Air
temperature(°C)
100%
Capacity
50%
Capacity
20%
Capacity
Heating capacity
27
13.8
6.9
4.1
Heating capacity
20
11.0
5.5
3.3
Heating capacity
15
9.2
4.6
2.8
Heating capacity
12
8.2
4.1
2.5
Heating capacity
7
6.9
3.5
Heating capacity
2
6.0
Heating capacity
-7
5.0
Heating capacity
-15
4.0
remark: water temperature 26℃
C.O.P.
27
6.2
10.1
15.0
C.O.P.
20
5.1
7.7
10.1
C.O.P.
15
4.2
5.8
7.6
C.O.P.
12
3.9
5.2
C.O.P.
7
3.4
C.O.P.
2
3.0
C.O.P.
-7
2.6
C.O.P.
-15
2.2
remark: water temperature 26℃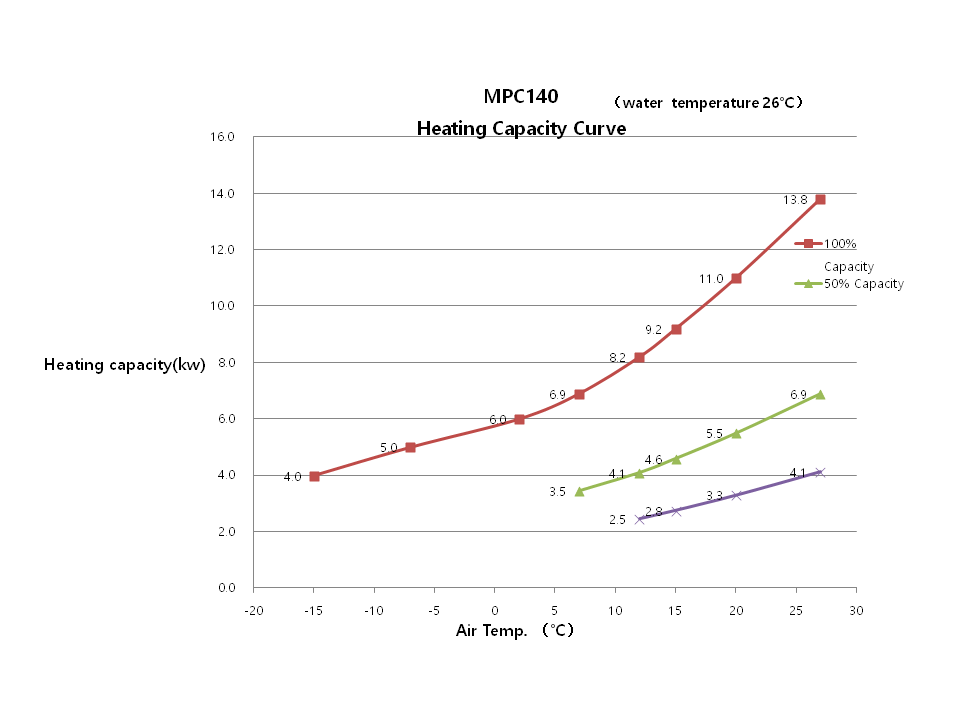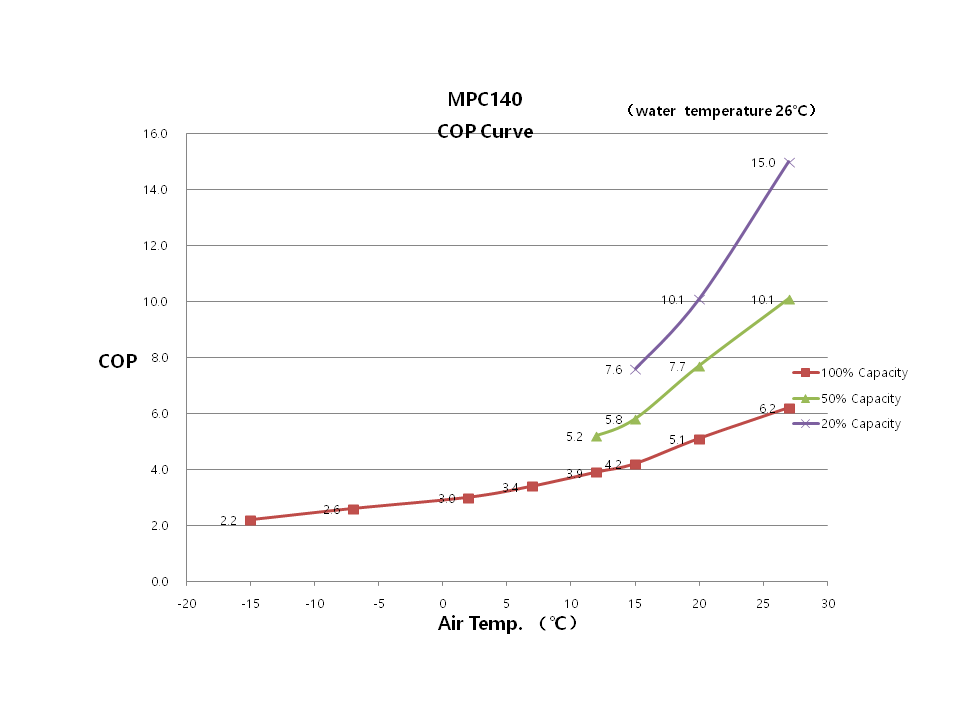 MPC170
Air
temperature(°C)
100%
Capacity
50%
Capacity
20%
Capacity
Heating capacity
27
17.0
8.5
5.1
Heating capacity
20
13.4
6.7
4.0
Heating capacity
15
11.5
5.8
3.5
Heating capacity
12
9.9
5.0
Heating capacity
7
8.1
Heating capacity
2
6.8
Heating capacity
-7
5.2
Heating capacity
-15
4.0
remark: water temperature 26℃
C.O.P.
27
6.0
10.4
15.0
C.O.P.
20
5.0
8.0
11.0
C.O.P.
15
4.2
6.7
7.8
C.O.P.
12
3.9
6.0
C.O.P.
7
3.3
C.O.P.
2
2.8
C.O.P.
-7
2.3
C.O.P.
-15
1.8
remark: water temperature 26℃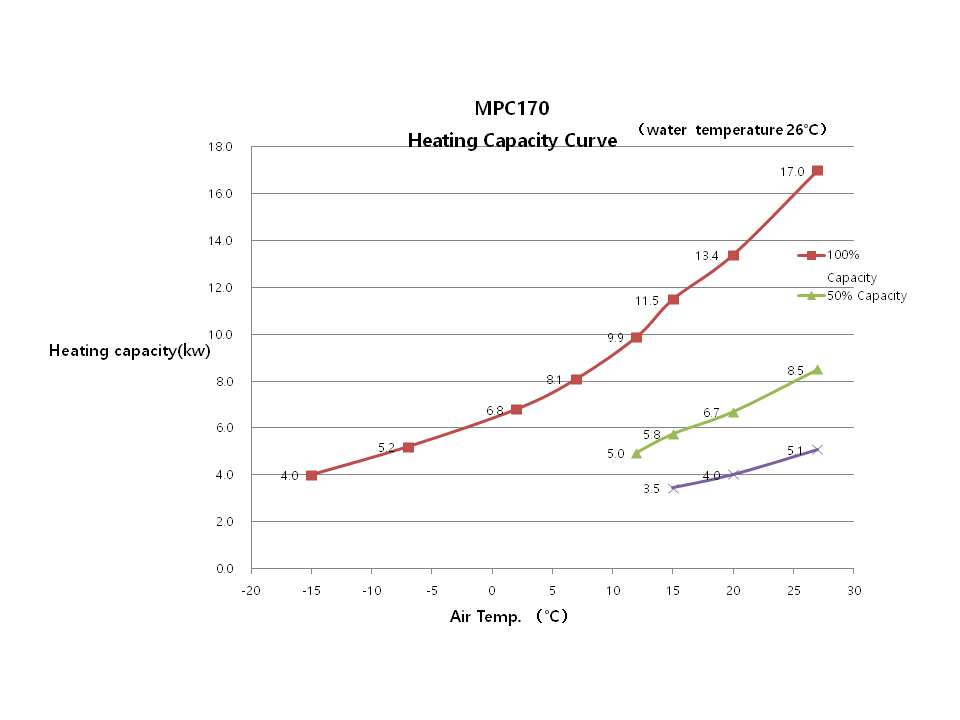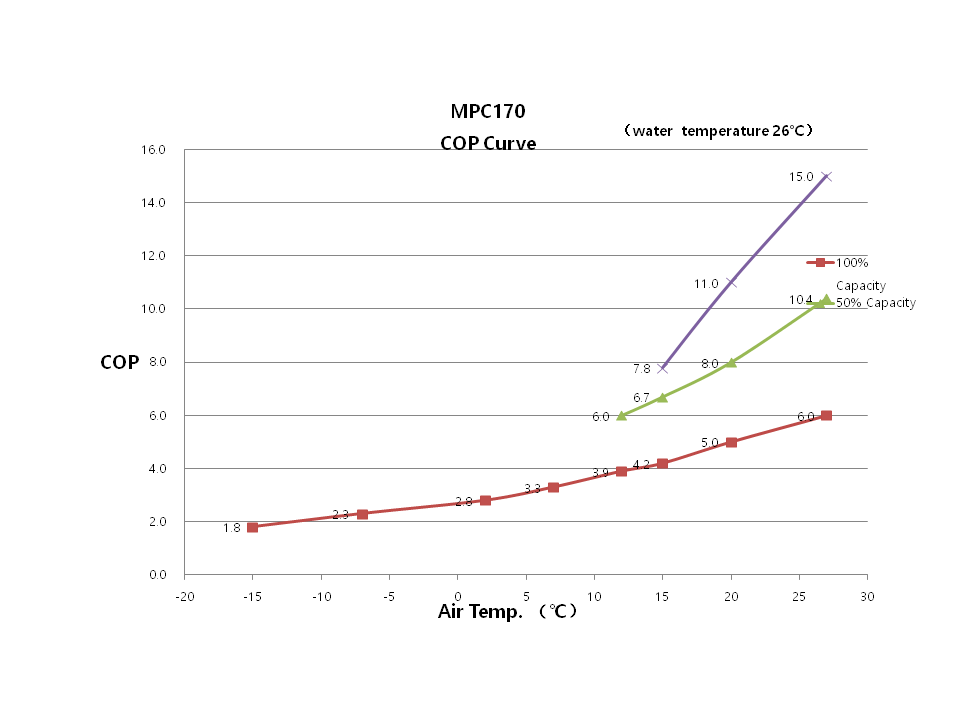 MPC220
Air
temperature(°C)
100%
Capacity
50%
Capacity
20%
Capacity
Heating capacity
27
22.0
11.0
6.6
Heating capacity
20
17.7
8.9
5.3
Heating capacity
15
15.0
7.5
4.5
Heating capacity
12
13.4
6.7
Heating capacity
7
11.5
Heating capacity
2
9.7
Heating capacity
-7
7.4
Heating capacity
-15
5.7
remark: water temperature 26℃
C.O.P.
27
6.3
11.2
15.5
C.O.P.
20
5.2
8.5
11.2
C.O.P.
15
4.5
6.5
8.2
C.O.P.
12
4.2
5.9
C.O.P.
7
3.9
C.O.P.
2
3.6
C.O.P.
-7
2.5
C.O.P.
-15
2.3
remark: water temperature 26℃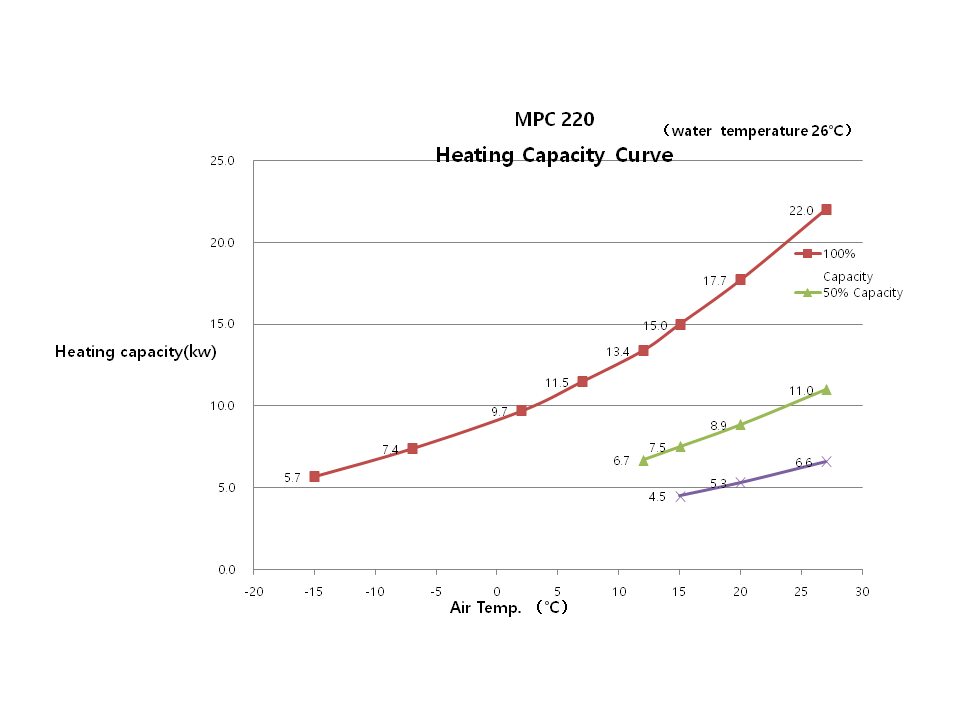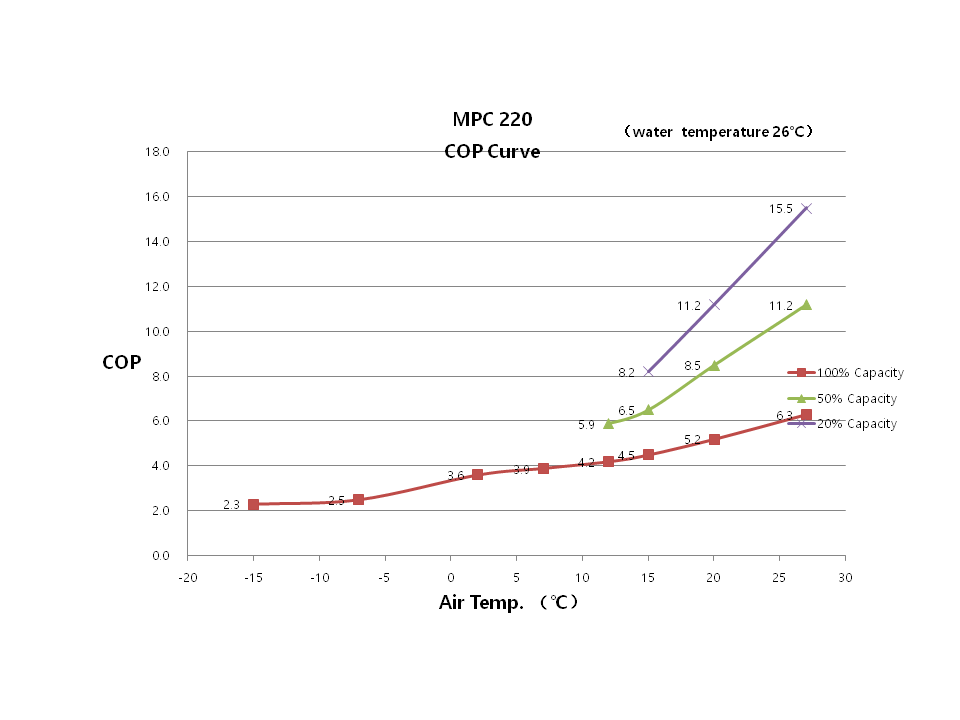 MPC270
Air
temperature(°C)
100%
Capacity
50%
Capacity
20%
Capacity
Heating capacity
27
26.5
13.3
8.0
Heating capacity
20
21.4
10.7
6.4
Heating capacity
15
18.0
9.0
5.4
Heating capacity
12
16.1
8.1
Heating capacity
7
13.5
Heating capacity
2
11.4
Heating capacity
-7
9.2
Heating capacity
-15
7.2
remark: water temperature 26℃
C.O.P.
27
5.7
9.5
15.2
C.O.P.
20
4.9
7.5
10.5
C.O.P.
15
4.3
5.9
7.9
C.O.P.
12
4.1
5.5
C.O.P.
7
3.8
C.O.P.
2
3.4
C.O.P.
-7
2.3
C.O.P.
-15
2.1
remark: water temperature 26℃
MPC320s
Air
temperature(°C)
100%
Capacity
50%
Capacity
20%
Capacity
Heating capacity
27
31.5
15.8
9.5
Heating capacity
20
26.0
13.0
7.8
Heating capacity
15
22.1
11.1
6.6
Heating capacity
12
20.1
10.1
Heating capacity
7
17.5
Heating capacity
2
15.0
Heating capacity
-7
11.0
Heating capacity
-15
9.5
remark: water temperature 26℃
C.O.P.
27
6.5
11.6
15.8
C.O.P.
20
5.6
9.1
11.3
C.O.P.
15
4.9
6.8
8.0
C.O.P.
12
4.6
6.3
C.O.P.
7
4.0
C.O.P.
2
3.5
C.O.P.
-7
2.8
C.O.P.
-15
2.4
remark: water temperature 26℃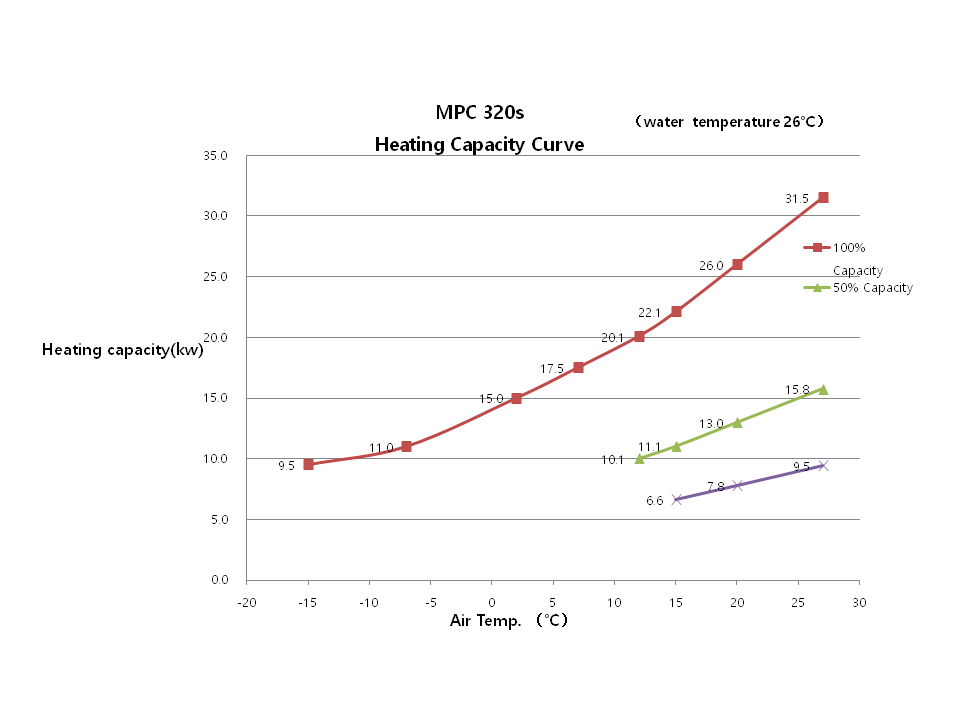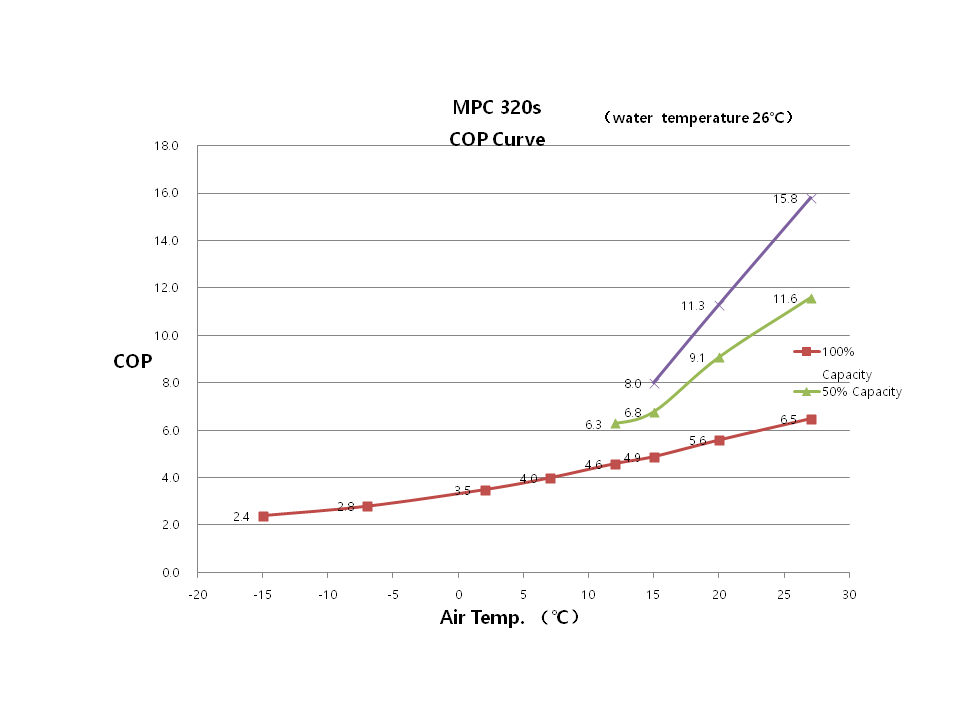 MPC410s
Air
temperature(°C)
100%
Capacity
50%
Capacity
20%
Capacity
Heating capacity
27
40.5
20.3
12.2
Heating capacity
20
33.5
16.8
10.1
Heating capacity
15
29.0
14.5
8.7
Heating capacity
12
26.7
13.4
Heating capacity
7
23.2
Heating capacity
2
19.9
Heating capacity
-7
14.7
Heating capacity
-15
12.1
remark: water temperature 26℃
C.O.P.
27
5.8
10.7
16.5
C.O.P.
20
5.1
8.5
11.2
C.O.P.
15
4.5
6.4
8.3
C.O.P.
12
4.2
5.9
C.O.P.
7
3.9
C.O.P.
2
3.5
C.O.P.
-7
2.8
C.O.P.
-15
2.3
remark: water temperature 26℃